E Hana Kākou - Let's Work Together!
Program Highlight
Maui Strong Fundraiser
Weʻve created a special print to kākoʻo (support) our Maui ʻohana throughout their recovery and healing journey.
100% of profits from the sale or licensing of any product with our Maui Strong print will, for the next 5 years, be donated to support residents affected by the Maui wildfires.
Our Maui Strong pattern is made from a combination of 13 NOHO HOME prints, each specifically curated by designer Jalene Kanani for their values, sentiments, and intentions for healing and rebuilding the Maui community.
Partner Highlight
Friends of Iolani Palace
"NOHO HOME is proud to support The Friends of 'Iolani Palace as we are constantly inspired by its efforts to preserve, restore, and share this iconic landmark with the world. As a local business working to share the nature and traditions of Hawai'i, we are grateful for the opportunity to support other organizations that aim to do the same."
-- Jalene Kanani Bell | President & Creative Director of NOHO HOME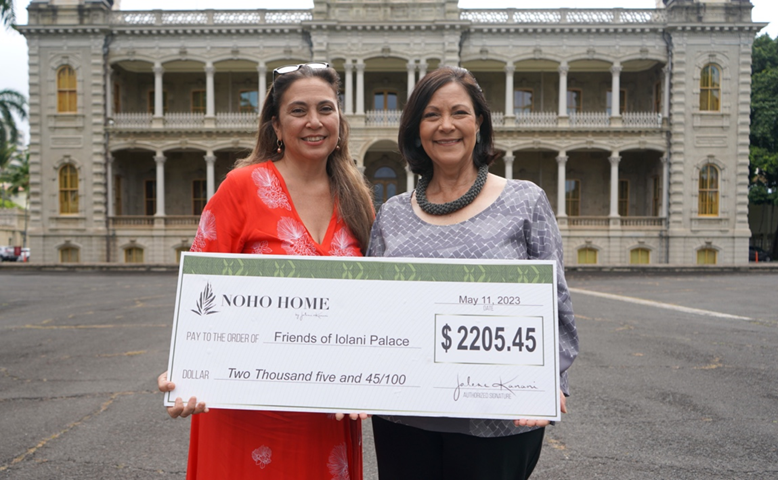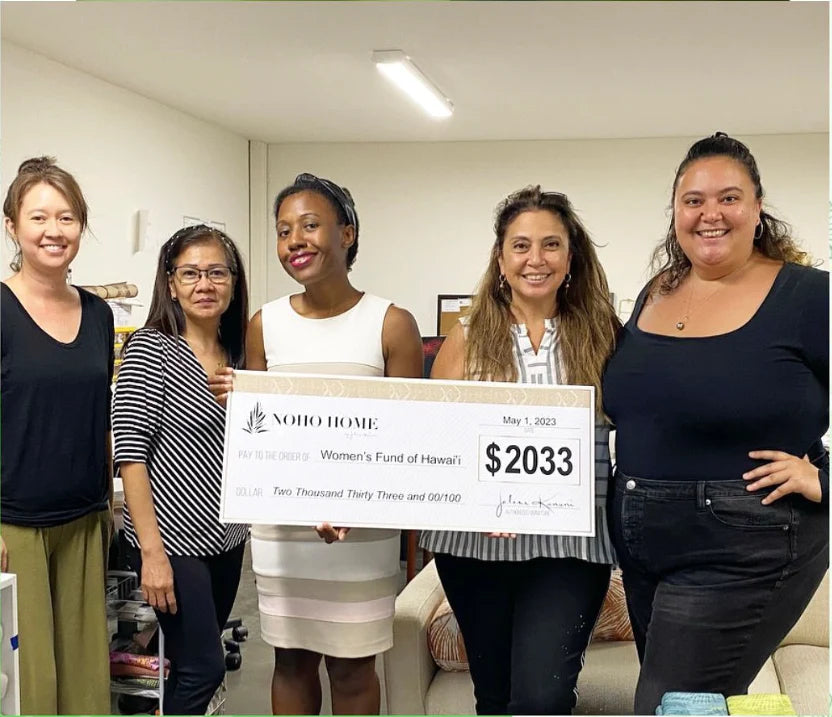 Partner Highlight
Women's Fund of Hawaiʻi
"Celebrating our female community leaders and their remarkable contributions. Jalene Kanani, founder of NOHO HOME, cares so deeply about uplifting Native Hawaiian programs. Her WFH donations will go toward initiatives that promote Hawaiian culture. We toured her micro-factory in Waipi'o and were amazed by the team's passion for design and storytelling!"
-- Aleeka Kay Morgan | Executive Director of WFH
Big Brother Big Sisters Hawaiʻi
Big Brothers Big Sisters of Maui
Ka Hoʻolako
Kamehameha Schools Hawaiʻi
Hālau Hi'iakaināmakalehua
Waolani Judd Nazarene School
UH Baseball Team
Tea Chest Hawaiʻi
Dup15q Alliance
Aloha Koʻolauloa
Hālau Lilia Makanoe
Hālau Kalama
Hawaiʻi Island United Way
808 Local Vibez 7u Flag Football Team
Kula Kaiapuni ʻo Hauʻula and Kula Kaiapuni Hawaiʻi ʻo Kahuku Academy
Boys & Girls Club of Hawaiʻi
Chicago Asian Women Empowerment
Purple Maiʻa
Maul Fundraiser - Massachusetts
Maʻi Movement Hawaiʻi
Keaukaha One Youth Development
Island Drip Baseball Team
Hawaiʻi Island United Way
St. Francis Healthcare Foundation of Hawaiʻi
Hālau Kalama
Makana Mahalo
Washington State University Kaiāulu ʻIʻimi Hawaiʻi
Kamehameha Schools Hawai'i PTO
Ke Kula Kamaliʻi ʻo Hānalaulu Childcare Center
Ka Maʻo
Homegrown Mililani
Hayden Koanui-Tucker
Aloha State Volleyball Club 16U